Eugene Motocross / Territorial Motocross Park  is a Historic MX track  in the Willamette Valley just outside of Eugene, Oregon. The track itself is over 1.5 miles on most events and also offers a Grand Prix course that utilizes the motocross track as well as additional trails and obstacles found on location.
Both race and open practice days gates open at 8:00 AM. Race day registration begin at 9:00 AM
PLEASE remember we do not start bikes before 10:00 AM
If you would like to receive twice monthly email updates on events and schedule changes at EugeneMXPark you can sign up for our mailing list here. 
(Please note this is a new mailing list! The old one was lost. You do need to sign up again if you were on the other one.)
If you would rather not get email notifications you can always
Follow Us on Facebook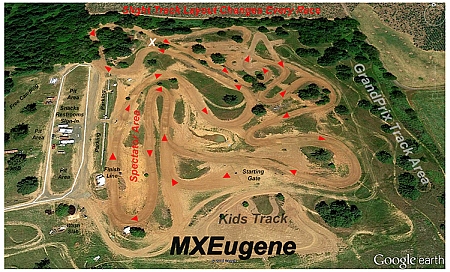 Click Above For Large Image
See our schedule here!
See all classes for bikes and quads here!
The track has provided many Oregon riders with an excellent place to ride for many years. Formerly know as Eugene MX, typically runs over a 1.5 mile course including high bank berms and several styles of jumps. The track offers plenty of places to pass and is located on a wooded hillside so there is much course diversity. There is also a separate kids track so be sure and bring them out to ride!
While you are out at the track don't forget about the Snack Shack
Among other things you will find hot and cold drinks, hot dogs, burgers, fries.
Don't forget to pick up your MX Eugene T-Shirt or Sweat-Shirt while you are there.
Camping is available and FREE! Lots of parking!

(Camping fees will apply for Pac West and Mammoth weekends)
We have added an email list to the site. This allows us to send you an email regarding schedule changes, track conditions and special events. If you would like to be on that list go to the form page, fill it out and we will add you!
---